SmartcastLights™️
4 in 1 Sunset/Rainbow Lamp With Remote Control – GalaxyLight™️
Take Stunning Pictures! 📸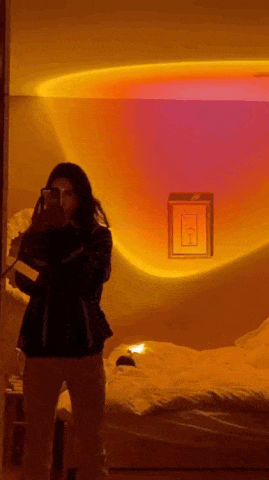 Level up your Instagram feed by taking stunning pictures with the Sunset Lamp. The Sunset Lamp projects a sunset like glow on to your walls making it so you can enjoy all the benefits of golden-hour lighting anytime, anywhere. Don't worry, the pictures you take will be sure to impress all of your followers. Just be prepared for all the comments asking you where you got it!  
Impress Your Instagram Followers.

Romantic Visual Experience

If you are dreaming of having a romantic modern home, this projection lamp is a must have. A simple ambient light can change the atmosphere of the room, giving you a warm and noble retro visual experience.
Made of high quality materials. The Sunset projection lamp is very stable and have a great contemporary/modern look.
Energy-efficient; LED technology, it's very economical and never gets hot. Just plug it in a usb and press the on/off button.
The soft light is great for lighting and taking pictures. Suitable for kids bedroom, living room, party, outdoor BBQ, Live background light, creating a brilliant atmosphere.
Package include: 
1x Lamp, 1x cable with on/off switch, 1x Remote Control ;1.2 meters long USB cable